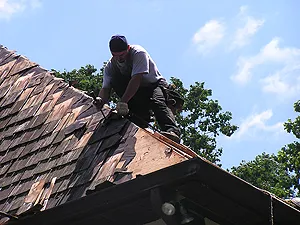 Your home, as as well as your business building is your investment and to protect it you need a quality roof as well as quality roof repair and maintenance when needed. Shelton Roofs are your primary choice for any roofing need you may require. Shelton Roofs hire experienced and qualified roofers who have the capability to engage in any roof work, whether it be installing a new roof, replacing an old roof, repairing an existing roof or inspecting an existing roof.
Our roofing contractors can perform the roof repair job you need the right way the first time. We provide you with a free estimate and we take the time to make sure that we provide you with a calculation of the right materials and labor that your roof will require to finish the job. We pride ourselves in making sure that your roof work is completed on time and on budget. In the event of an emergency such as a fire, storm damage or any other unexpected roof damage, we will have a team on site to assess the damage and provide temporary roof repair if required to protect your property from the elements.
We have been in business for over seventy (70) years in the Palo Alto, the Menlo Park and the Sunnyvale areas in California. We know the style and qualities of the homes that have been built in these areas over time and we know our customers and the value that they place in their homes. We are able to provide you with the best quality roofing material as well as the best price for both labor and materials. We understand that a neglected roof will diminish the value of your home or business structure and we will take all of our professional skills and abilities to protect your investment.
Shelton Roofs in licensed, bonded and insured. You never have to worry about property damage as a result of the work from one of our staffers. We are also Diamond Certified. This is based on a quality service survey by over four hundred customers. The roofers at Shelton Roof maintain a high degree of quality and care and it shows in our loyal customer base. Our staff is available around the clock to answer any questions you may have. Every one of our employees are courteous and professional and will take the time to listen to your roofing needs.
No roofing job is too exotic or too big for us to handle. Our goal is to make sure you are satisfied with our work and our roof work is done right the first time. We work on the details that will enable your roof to stand the test of time. We can provide expert repair on roof flashings, gutter installation and emergency leak repair. Your roof will be the pride of your community and will stand the test of time.