We know what the roof is, but do we know just what differentiates one type of roofing material from another? Let's take a look at the most popular ones, as enumerated by Greg Cook: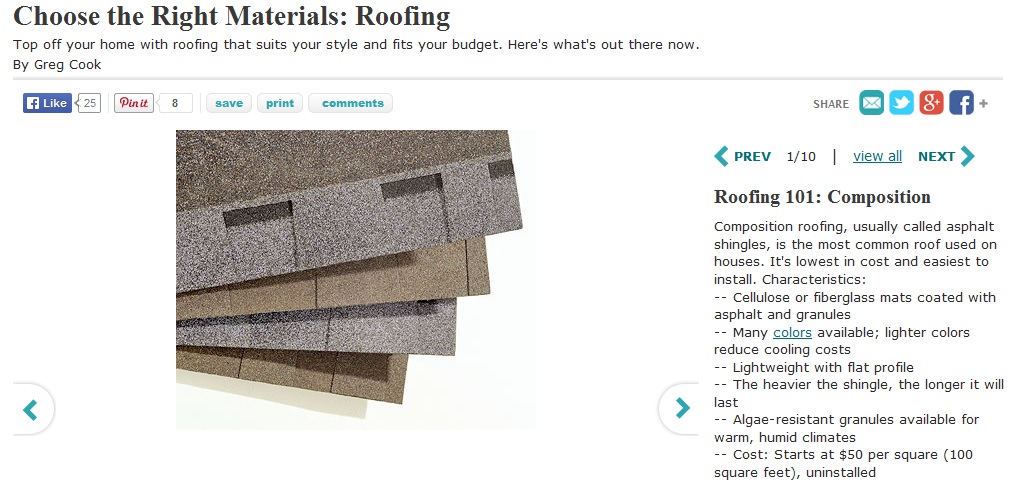 Composition or Asphalt Shingles
These are the most common materials used on houses for their relatively cheaper costs and ease of installment. They are lightweight and maintain a flat profile.
Laminated Shingles
Unlike the former, laminated shingles are thicker and heavier due to their multi-layered panels. Their fiberglass mat core boasts of greater fire and wind resistance.
Wood
Wood shingles are flat in character, but their natural look makes for an interesting complement to the landscape surrounding a house. These roofs, however, may need preservatives and fungicide as maintenance measures.
Metal
Metal shingles have service lives of up to 50 years, and are lightweight and fire-resistant. However, more noise tends to be created when external elements, like rain or hail, hit them.
Clay Tiles
These are heavy and durable materials with a curved appearance that evoke the architecture of previous centuries. Clay tiles can last up to 100 years.
Slate
As proven over the decades, slate is virtually indestructible. Its service life of over 100 years is its defining feature, and the reason why people pay considerably for it. Installing slate requires special skills.
Concrete Tile
Concrete tile is as durable as clay and slate. Roofs of this material require little maintenance.
Rubber Composite
This is also known as synthetic slate. It is lightweight but unbelievably strong and flexible.
While a guide like this may influence your choice of roof, you should still turn to a professional roofing contractor in your area, like Shelton Roofing, for definite advice on the ideal roof your house needs. Local experts are your best partners in such matters.
In the Bay Area, for instance, a Sunnyvale roofing contractor can identify which roof is compatible with the region's unique weather patterns, as well as your house structure and your preferences.
These roofers can also let you know if you need to consider roof replacement or just a simple roof repair in Sunnyvale.
(Article Excerpt and Image from Choose the right materials: roofing, Better Homes and Gardens, NA)