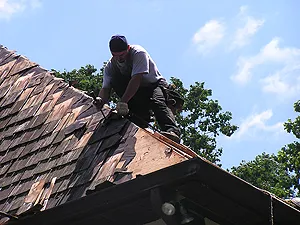 Maintaining the quality and integrity of your roof is vital. No one can live in a house and ensure all that they own is well protected without good roofing. It is so fundamental to how we live that most of us take it for granted. However, when problems do arise it is necessary to deal with them quickly and decisively. Working with a professional roofing company can help you resolve any roofing problems you may have. Such a partner in roofing can ensure that you are able to live comfortably without the threat of a leaking or crumbling roof.
With the continual changing of the seasons and the advancing age of your house come the stresses and strains that cause its material structure to gradually degrade. All material things are subject to such forces. And there are ways to control and contain the fall-out from them. A great many things can happen to a roof over the course of its lifetime. It can be subject to any number of storms and other natural events. The important thing is to know the material state of your roof well enough to tell when it is time to do maintenance, or when it is time to have the roof replaced.
As a homeowner, keeping your roof in top condition is one of your top goals. If you have identified a leak or other weakness in the material state of your roof, you may be tempted to call in some friends to do the repair work yourself. Taking this path is very risky, and it can lead to more problems than it solves. Roofing is a specialized activity. Repairing a roof requires particular tools and special knowledge, skills, and abilities in order to do it well. If you do not have the equipment or the know how to conduct a proper roof repair, then you may cause more problems than you fix, and you may even end up harming yourself or others.
The best thing to do is to call a professional and well-qualified roofer to do the job. Such a person can come to your home, assess the material condition of your roof, and provide you with a repair estimate and cost in a timely and effective manner. Only the most experienced roofers can provide you with the value and world class customer service that you need and deserve.
Fortunately, such roofers can be easily found. The place to begin your search is on the worldwide web. Using the web will enable you to efficiently and effectively find the roofer you need to help you with your problem. The web will allow you to carefully scan all of the options that are out there in a way that fits in with your daily schedule. You will be able to bring all of the various websites to the comfort of your computer screen, where you will be able to evaluate the quality, value, and service of each one. This will then enable you to make a decision on which one to work with.