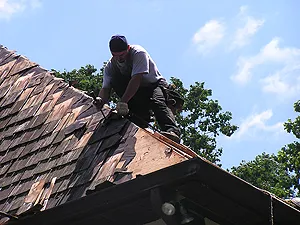 Roof repair and replacement are important maintenance requirements for any residential or commercial property. Home and business owners can choose from a variety of roofer styles that include composition, tar and gravel, modified bitumen, tile, wood and shake singles and synthetic re roofing materials.
We deliver exceptional customer service for roof replacement options or emergency roof repair. Our roofing company is a roofing contractor, with service technicians who are licensed and bonded for the work that we provide. We send out a qualified roofing technician to assess your roofing needs. You receive a free estimate of what type of repair work is needed and the cost of your repair. We offer a printout of the itemized repairs, that will be completed to your complete satisfaction.
We use only the best quality roofing products to repair your home or office building. We provide services for apartment buildings, industrial sites, schools, universities and hospital roofing needs as well. Our roofing materials are eco-friendly, and we install energy-efficient roofing systems. We recycle all of our waste materials that we generate, and we are considered a green company. We use the latest products and installation techniques, that are of the highest standards in the construction industry.
We use over 40 pieces of equipment to complete your new roofing project. We have been owned and operated by the same group for over ten years. We have the experience and expertise to complete your new roof or roofing repairs. We stand behind our work and offer a complete warranty and guarantee.
We guarantee a one-of-a-kind and personalized experience, that no other regional roofing team offers. We have been awarded a high customer satisfaction rating through Diamond Certified, and we are a member of the Better Business Bureau of your regional county. We are members of the Independent Roofing Contractors of California and the Roofing Contractor Association of California. See our additional qualifications here.
We are one of the most trusted roofing contractors in this area, and we offer a five to ten year guarantee on our work, depending on the type of material that you choose to complete your roofing project. We are licensed with the state of California, and we always send out licensed and bonded repair workers for your roofing repairs.
One of our roofers will be sent out, after you call in and explain what needs to be done for your home. We have several options for roofing repairs or roof replacements that we can show you. Our technicians will take the time to sit down with you at your home or office center, and we will go over what our repairs will be. You can look over several selections for your roof repairs from our display manuals. Each type of roof repair has its own method of installation, and we will carefully explain how we will place your new shingles or roofing materials on your home. Call us or contact us online for your free roofing quote.